The Sanctuary of the Magdalene Presents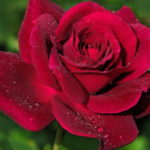 The Path Of the Rose
A Retreat For Spiritual Transformation and Inner Awareness
April 18-19, 2020
at Pretty Lake Camp
9123 Q Avenue, Mattawan, Michigan
In medieval times a mystery school quietly thrived behind the imposingly beautiful façade of Chartres Cathedral in France.  The roots of this school, like its namesake the Rose, were planted deep in the ancient mystical teachings that formed a much older and more original Christianity than that taught in Rome.
Central to these teachings was a six-petaled rose at the center of an eleven-circuit labyrinth laid out on the cathedral floor.  Each petal of the rose taught an essential concept in the spiritual journey of humanity, concepts enshrined in the familiar words of the Lord's Prayer.  This prayer, taught by Jesus of Nazareth some two thousand years ago, reminds us that faith, surrender, service, abundance, forgiveness and overcoming obstacles form the pathway to the miracle of Love.  And with Love, all things are possible, even miracles.
This weekend will provide an opportunity to share and teach each other as we walk the Path of the Rose.  The secrets of true manifestation and abundance are hidden in this ancient wisdom.  In a fragmented world that too often insists on instant gratification, this is a path of quiet patience; of waiting and watching and preparing. This is a path that binds all of us together as one family.   The Lord's Prayer is not just a Christian prayer.  It is a message for all seasons and all peoples.  It breaks down barriers and creates miracles.  Come find your own miracle by discovering the miracle you are.
Time and Location:
We will gather at Pretty Lake Camp in Mattawan at 9:30 a.m. on Saturday in the classroom at the front of the gym and plan to conclude our time together early Sunday afternoon with lunch. Pretty Lake is southwest of Kalamazoo. From US131, take Exit 31 and head west on Centre Avenue, which becomes Q Avenue. Head west for 4 miles and look for the main Pretty Lake Camp entrance on the south side of the road.
Accommodations:
If overnight accommodations are needed, please make your own arrangements. For your information, the Baymont Inn & Suites, 2203 South 11th Street, Kalamazoo is conveniently located to Pretty Lake Camp and is offering us a manager's discount of $71.99/night. You must mention Shawna Brown's name to receive this discount. Rooms include breakfast.  If you need overnight accommodations, please reserve your room by calling the Baymont at 269-372-7999.
Investment:
Investment for the weekend is $177 which includes 3 meals (Saturday lunch and dinner, and Sunday lunch). If you do not wish to eat all of the meals, please notify us when you register. Other arrangements can be made. Also, please let us know if you have special dietary needs. We will make every effort to accommodate you.
PLEASE NOTE: A payment plan is available provided that you register by the deadline of March 30th. You may pay half of your fee at that time and half on April 18th. All fees are due by April 18. Please contact Mother Maryesah if you wish to use this option.
To register for this retreat, please send your check or money order, payable to the Sanctuary, along with your name and address, to:
The Sanctuary of the Magdalene
P.O. Box 2565
Kalamazoo, MI  49003-2565
 Or register on-line and pay by credit card using the button below.
REGISTRATION DEADLINE IS MARCH 30th. SPACE IS LIMITED, SO PLEASE REGISTER EARLY!
We suggest that you wear casual, comfortable clothes. You may also want to bring a journal with you for personal reflections.
Gifts of the Rose
Once again personal services will be offered during free time to complement your spiritual growth and healing on the weekend. These services include personal intuitive readings and subtle energy healing. Participation is totally optional and investment is a love donation or service exchange unless other arrangements are stated.
For further information regarding this retreat or the Sanctuary of the Magdalene please contact:
Rev. Mother Maryesah Karelon
269-276-0270 or via email