The Sanctuary of the Magdalene Presents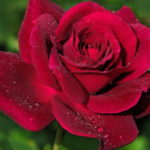 THE PATH OF THE ROSE
An 8-week Series of Online Classes
Beginning on
Thursday,

February

11, 2021, 7-9 p.m.
As we look back on the year 2020, let's take a deep breath. We still have challenges ahead of us, and yes, the pain and suffering go on around us and perhaps even within our hearts and homes, but we are surviving. So now is the perfect time to pause and reflect on how these past months have changed us and how we can create a more positive future, for ourselves, our loved ones and our world. We need to do much more than survive; we need to thrive!
To encourage our forward movement in the face of so much change, the Sanctuary of the Magdalene is creating an 8-week series of experiential online classes focused on spiritual growth and inner awareness. Originally offered as a weekend retreat, The Path Of the Rose provides an opportunity to share and teach each other.
In medieval times a mystery school quietly thrived behind the imposingly beautiful façade of Chartres Cathedral in France.  The roots of this school, like its namesake the Rose, were planted deep in the ancient mystical teachings that formed a much older and more original Christianity than that taught in Rome.
Central to these teachings was a six-petaled rose at the center of an eleven-circuit labyrinth laid out on the cathedral floor.  Each petal of the rose taught an essential concept in the spiritual journey of humanity, concepts enshrined in the familiar words of the Lord's Prayer.  This prayer, taught by Jesus of Nazareth some two thousand years ago, reminds us that faith, surrender, service, abundance, forgiveness and overcoming obstacles form the pathway to the miracle of Love.  And with Love, all things are possible, even miracles. The secrets of true manifestation and abundance are hidden in this ancient wisdom.
In the world in which we now live, I truly believe that LOVE is the answer, however cliche that may sound. But to get there as a planet, we need to start within ourselves and that is the Path Of the Rose. In a fragmented world that too often insists on instant gratification, this is a path of quiet patience; of waiting and watching and preparing. This is a path that binds all of us together as one family.
The first class on February 11th will be a FREE introduction BUT YOU MUST PRE-REGISTER BY RESPONDING TO THIS EMAIL. I will then send you log-in instructions. Each of the following classes will be available for an investment of $22/week.
The Lord's Prayer is not just a Christian prayer.  It is a message for all seasons and all peoples.  It breaks down barriers and creates miracles of healing.  Come find your own miracle by discovering the miracle you are.
If you have questions, please feel free to contact me at maryesah@magdalenerose.org or call 269-276-0270.
Blessings of Love and Light,
Maryesah